THE Divine IS IN THE DETAILS
BUTTONS
Unlike today's buttons, many of which are punctured with holes, most buttons back in the Regency Era were made with shanks, which made button making a kind of decorative art that allowed button-makers to decorate button faces with great artistry and vivid imagination.
Regency style demanded that the buttons be elaborately designed and reflective, and thanks to the Industrial Revolution brand new machines were invented that could stamp, cut, polish, and fashion truly fancy buttons like the ones you see above. Included here are buttons made of steel, copper, brass, fused silverplate, pewter, white metal, mother of pearl, paste stones, and gold gilding.
Buttons started long before the Regency period, in fact the first button-makers guild was formed in France in 1250. Naturally only super wealthy Lords, Ladies and Royalty were able to afford the luxury of buttons back then and buttons even formed a type of secondary currency as one could pay off a handsome debt with a single such button. Throughout history, and even today luxurious buttons indicated good style and to some degree, social status. Button makers of the Regency period were also jewellers, so that should give a pretty clear indication of the type of workmanship and status involved here. The art of buttons is not lost, in fact there are still terrific outlets for beautiful buttons available if you look hard enough. Our favourite button supplier is an Australian small business driven by passion called All Buttons Great and Small. You can often find Director Ellie Lindsay fossicking through the archives for rare finds and special one off pieces just for you for La Robe de Chambre.
The variety of buttons made in the 18th century was staggering. They were crafted with ceramics, enamel, fabric, metal, repoussé or hammered metal, horn, bone, tortoise, gemstone, glass, ivory, papier machè, wood, iridescent white oyster, conch, and materials under glass, such as fabric paint, feathers, paper collage or decoupage, etc.
Birmingham was the world leader in the button trade and the Prince of Wales was said to have preferred to wear buttons made by exclusive makers in the region. No wonder, as the buttons were really very, very pretty. There's an amazing archive of buttons in the Birmingham Museums and Art Gallery, some of which are online complete with individual histories.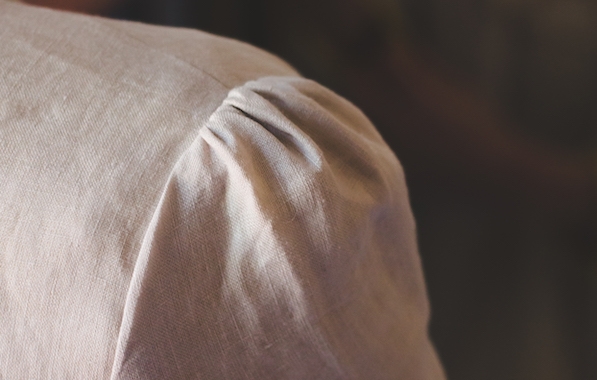 TAILORING & FABRICS
We've taken the clean lines and simplicity of Regency dress and adapted it to modern use with gently pin tucked shoulders and interior as well as exterior buttons on loophole fixtures. The skirt follows the fuller line to accomodate movements and fluency to give flow and an elegant demeanour to the gown. The Ladies Magazine of 1812 lists salmon, blue, rose, green, red-lilac or heliotrope, buff, grey, crimson, orange, lemon, jonquil and puce as fashionable colours. We have incorporated these ideas in with our collection colour palette with our inaugural season 'Audrey' featuring silt, rouge and ink linens with chartreuse, rose, ivory and floral silken linings.